Israeli Ambition: The company that wants to conquer the sky with airships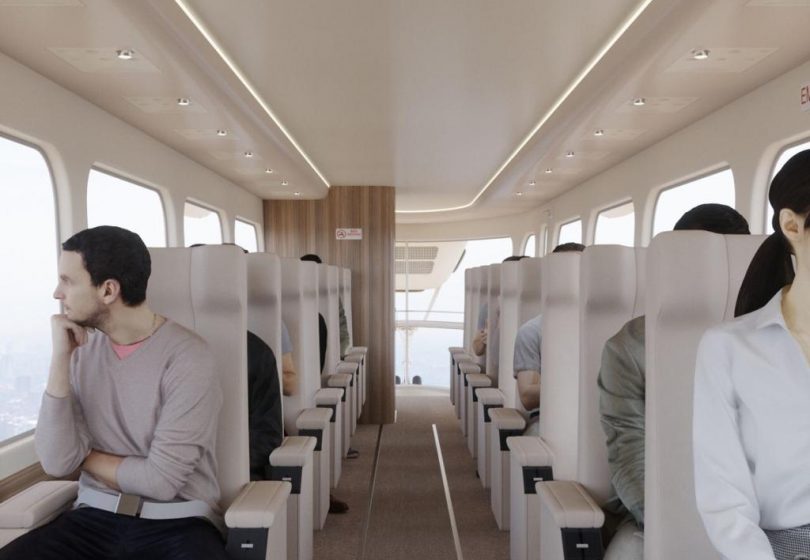 Walla! An Israeli leading news site, wrote about aerial tours on Atlas airships on Nov. 16 2020
Here is the English translation of the article:
More luxuries than a hot air Balloon, safer than an airplane and way more environmentally friendly than any motorized flying device: Israeli company is about to revive airship industry and will offer a unique and quiet experience. Prepare the Instagram!
2020 had proved well that tourism (and the world in general) is moving toward ecological, intimate, local, and much more modest direction.
No, the huge planes that surrounding us all over the world are not likely to be abandoned, but just beside them, we may see a more environmentally friendly aviation arising from the history books.
We are talking about airships, they take our imagination to a quiet flight, hovering with a magnificent view. This is a boutique experience with a slight sense of adventure, but mostly – zero emission.
"Sky Yachting"
As we speak, a new airship technology is established in Israel, by a company named "Atlas LTA". The company operates in Rosh Ha'Ayin and it has 4 owners-investors: Yaron Bul, Yuri Friedman, Gennadiy Verba and Ariel Rosenberg. The company is specialized in developing of modern and advances airships, that are used for various purposes, such as: transportation, tourism, and humanitarian aid.
Yaron Bul, former pilot in the Israeli Air Forces and one of the company's owners, told us about the company's flagship program – ATLANT. This modern airship will have a unique capability to carry heavy cargo as well as people. The passenger's modification will be used for Sky yachting and will provide its passengers the most comfortable conditions ever.
The ATLANT will enable people to visit the most hard-to-rich and hidden places on earth, such as North Pole, Antarctica's shores or remote tropical islands, and all of that without hurting the sensitive nature of those regions.
According to Bul's words, this is a very green flying device, significantly friendlier to the environment than any other flying machine. Its fuel consumption is twice lower than that of an airplane and 12 times lower than helicopter's. As a next step, the ATLANT is expected to be the first large flying device with zero carbon emission.
For now, the ATLANT is still at the development stage (which will continue for 4 to 5 years), but we are expected to see a tourist's airship of "Atlas" type in our sky very soon.  This is an electric airship, and its more advanced models would be the hybrid electric. They have  glass floors, large windows and will be used mainly for tourism, unique experiences, small private events like birthdays, bachelor parties and sport observations from the sky.
Airships are coming back
But first, a brief history background: The first airships appeared as early as 19th century and reached the highest popularity in the beginning of the 20th century. Airships even took passengers across the Atlantic Ocean. At the first years, they were clumsy and even dangerous machines, which used a flammable hydrogen to fly. For a long time, after numerous disasters it seemed that airships had disappeared forever, but lately they have made a real comeback.
There are people who believe that this would be the most significant transportation technology in the nearest future, and that is because airships are using much less polluting fuel. This issue becomes more and more important because more and more states are taxing polluting means of transport, as a part of the struggle against the global warming.
Airships are capable to lift cargo of tenth and even hundreds of tons. Of course, an airplane will bring cargo to its destination much faster, but this advantage is compensated by huge reduction in fuel use and other costs. Bul pointed out that cargo service by airships will reduce the cost in comparison to any air transport and sometimes even to ground vehicles or water vessels especially in case of multimode deliveries.
Furthermore, ATLANTs don't need any expensive ground facilities at destination. They are perfectly capable to land on an empty lot in a city, on a forest clearing or even on ice or water. This unique capability makes the ATLANT a perfect transportation tool for remote places, which are not equipped with the ground infrastructure.
Several companies in the world are participating in the race for developing an advanced airship. The modern airships are defined as hybrid helium ships, that uses helium lifting power along with the dynamic lifting forces born by the propulsion. The new airships are equipped with the state of the art electric motors and power electronics, batteries and fuel cells, which allows fuel efficient flight and uses advanced navigation system combined with computerized flight controls to make the pilots work easier.
ATLANTs are different from hot air balloons and surveillance balloons in their rigid body built from strong and light Carbone fiber composite. The envelop (the "balloon") contains special cells, pumped by helium and air at high pressure to make the ship heavy for the safe ground handling. To make it lighter for the flight the cells are releasing helium to the envelope and air to the atmosphere. That way, The ATLANT reuses helium, which is relatively rare and expensive gas and avoid using ballast.
90 km/h and you will hear nothing!
When are we expected to see the first Atlas Airships in Israeli sky?
Bul: Currently, the development work is standing at the end of the design stage. All the production work will be done in Israel. Today we are making significant business effort with customers in Europe, East Asia and even Gulf countries. In all those places, our electric airship will be used for a quiet and ecological aerial tour. We hope the first contracts will be signed in the beginning of 2021, and I assume that the first Atlas airship will launch to the Israeli sky in less than 2 years.
How many people can the Atlas airship take on board?
In Israel would operate 2 types of Atlas Airships, Atlas 06, that will take 8 passengers on board, and Atlas 11 is suitable for 17 – 24 tourists.
Are there any technical details, such as speed and height of the flight?
Average flight speed would be around 90 km/h. The full electric type will be able to stay in the air for 2-3 hours and to travel for hundreds of kilometers in a single sky tour. The next hybrid electric generation will be capable to travel 8-10 hours for over a thousand kilometers. Devices of those kinds are not required for special height, and they are staying at a comfortable height of 300-600 m. How quiet they would be?
Since the electric driven slow propellers are located far from the gondola, the passengers won't hear almost any noises from theme.
According to Bul's words, the company is working on building of a flying rote in the Israeli sky. For example, passengers will launch in Jerusalem mountains area and will be able to take a look on the Ancient City and its surroundings, than go to the Dead See and return to the starting point, and all of that in a flight duration shorter than an hour. "Even though, the airship is capable to fly from Dan to Eilat, while speaking about aerial tours, there is no need for such long distances" he says.
Can it land for a break?
Since airship is landing and launching vertically, it has no need in ground facilities. But even though, technically, it can land anywhere, the civil flight regulation demands to point out specific landing location. I assume there would be a few of such landing pads.
Seats like in the first class
To enrich the whole experience, the passengers will enjoy beverages served by a stewardess and comfortable chairs, just like those of airplanes first class. The passengers will have everything required for having the best time during their flight.
How safe are the airships?
"Very safe. Not many knows that during World War II, the Americans had large airship squadron that accompanied war ships in the Atlantic Ocean in a harsh and complicated conditions. After the war, the airships were left behind for various reasons. But as it is claimed, soon we will see theme again. Todays airships are operated with inflammable Helium gas. As a matter of fact, airship is safer than an airplane. If, for example, all engines are going out of order while in the air, the airship still will land softly. Our passengers will enjoy a hot air balloon adventure in a flying device that is safer than an airplane.
Can you estimate what would be the ticket price?
"Today, an aerial sightseeing helicopter tour price is standing on around 250 USD. We are hoping to sell tickets for half to two thirds of these price, which means around 150 USD for a 30 – 40 minutes flight. Our goal is to make the attraction affordable to as many people as possible.
Besides you, how many companies in the world are producing airships?
There are two or three companies like ours in the world, for example, new German "Zeppelin".  Airships were forgotten between the history pages, but there is a good reason to bring theme back. They do have a good justification for existence of their owns.